A New Generation of Robots to The Rescue: Cobot Welders
After some research, Moye and the Advanta Southeast team acquired a collaborative welding robot (cobot) from Hirebotics, Nashville, TN, to test it out. Hirebotics' cobot welder uses an intuitive smartphone app that guides welders of all skill levels in enabling the cobot to work on any type of welding job in just minutes.
"We received our first cobot welder and actually started operating it the day we received it," says Moye, "which was amazing. Setting it up took a couple of hours and was easy. Even better, it took less than a day of training for the welding team."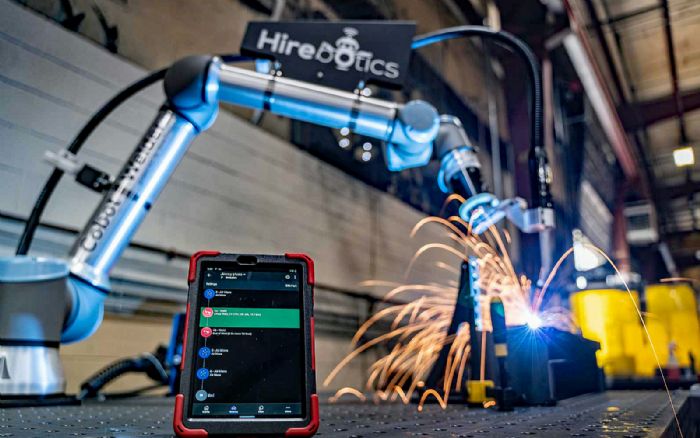 While Moye admits initial pushback from the plant's welders, they soon realized how simple the cobot was to use, and that it made their work easier. After about a month of running the cobot on simple jobs, Advanta Southeast's welders were more than convinced of the investment's value. Moye mentions that welder efficiency has increased, as has job satisfaction. The firm began by assigning the cobot mundane, repetitive tasks so that its welders could work on more exciting jobs and concentrate more fully on the quality of each weld.
"We noticed more consistent and higher-quality output—both with cobot welders and our welding team," says Moye.
Along with being able to more easily monitor welding consistency, Advanta Southeast also uses the Hirebotics app to track real-time KPIs, such as welder overtime, consumable and gas use, and the number of weldments completed per a specified timeframe. Tapping into this wealth of data helps Moye make more informed decisions regarding operational workflows, job attribution and cost-reduction strategies.
Hirebotics' approach to support was an added plus. The in-app chat function lets the team text cobot-welder support specialists, rather than requesting and paying for a robotics specialist to stop by the shop. "We have only had to request support twice in the several months we've been using the cobot," Moye shares. "That level of support allowed us to get back up and running within 30 min."
Increased Throughput and Production Capacity
The results from using the cobot welder speak for themselves. "Our welding-department capacity went from 25 to 100 assemblies/day within just a few hours after we set up the first cobot," Moye says.
Since the initial test-drive with the first unit, Advanta Southeast has purchased three more cobot welders for the South Carolina plant, as well as two welding cobots for its 140,000-sq.-ft. headquarters facility in Petersburg, MI. Advanta Southeast also has been able to take on new contracts previously thought unbiddable—specifically work from foreign countries—thanks to the expanded throughput capacity and improved weld quality.
Moye is wholly convinced that welding cobots are the wave of the future. "I would tell anybody if they're on the fence or questioning it, to go for it. They won't regret it." MF
Article provided by Hirebotics, Nashville, TN; www.hirebotics.com.
See also: Hirebotics LLC
Technologies: Pressroom Automation, Welding and Joining